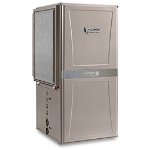 Compass CT
Multi-Position Vertical Combination
Equip your home with quality and innovative comfort.
No Corrosion
All-aluminum microchannel air coils prevent corrosion, enhancing reliability and life expectancy.
Hot Water Savings
Hot water generator allows the capture of free, unused heat typically cutting hot water cost by 25%- 40%.
Quiet Operation
Standard variable speed blower motor ensures quiet start up and operates at a fraction of the cost of a conventional blower motor.
Reduced Costs
Hydronic heating function allows a single unit to provide forced air heating, forced air cooling, and radiant floor heat. Since you only need one unit, this reduces installation costs and minimizes system maintenance.